Great party last night (this morning?). A lot of positive people. Intimate and fun, I'm glad I went. So ... what next? Well, it seems I'll be home for the holidays, saving my mother a whole lot of moolah. In which case, I'm going for it. That's right, the whole nine yards, kit and caboodle: I'm going to get a PERM. Not just any perm, but one that screams, "SHAZAM, girl! You too much!"
THE GOAL:

THE MORE LIKELY RESULT: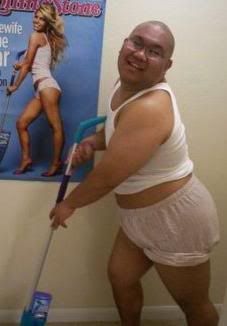 ***
HaiPhia and I waited a good hour and a half (if not more) at a Caribbean restaurant for a cavity-inducing mango chicken and an (oh-so savoury) roti to arrive. Needless to say, I (barely) tipped. We were both pissed, looking over at our waiter 5, 10 times. After she lost the argument as to who should confront him and he came over to apologize, we sweetly asked for something free (don't mess with immigrants!) and he threw in a plate of plantains. Pfft, I would've offered him a month's rent, but why fiddle with the details?